Pyrosil D (also known as Alloy TD) has been added to the extensive list of sheath materials we offer.
Who we are: Idaho Laboratories Corp (or "Idaho Labs") is a manufacturer of mineral insulated cable for thermocouples and heaters.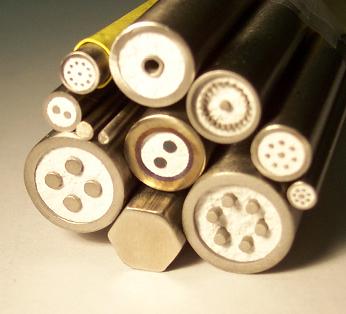 We also manufacture specialty thermocouples, including the Optimized Multi-Point (OMP). We offer mineral insulated thermocouple cable, platinum and noble metal thermocouple wire, custom thermocouples, and mineral insulated heaters for almost any application. We specialize in specialty, exotic and multi-point thermocouples, as well as thermocouples for the nuclear industry. Our quality system is NQA-1-2008/1a-2009 compliant.
Services Offered: We can draw your bare wire to almost any size you might want. We also offer straight thermocouple bare wire or rod in various sizes, or send yours to us - we will return it to you at the size you need, and ready to machine. We can draw or swage your material, and custom weld your tantalum, molybdenum, or other exotic alloy part.
Non-Destructive Testing: Do you need PMI (positive material identification) of your finished parts, or some material lost traceability? We can solve that. With our Innovex
XRF analyzer, we can distinguish between the hardest alloys, even differentiating between 321, 316, and 347 is no problem. We also offer X-ray services. Backed by our in-house ASNT Certified Level III and in-house equipment, fast turn-around is possible. Click here for more information or call to discuss your needs.
Small Diameter Thermocouple Cable: We have added another furnace dedicated to small and specialty cable - this allows us to expand the variety of cable already offered. We supply mineral-insulated (MI) cable down to .010". And with the other sizes we make means we have material for any need (from .010" up to 1.129" diameter), including tantalum material. We carry stock of the normal materials, and odd-ball ones too!
Please click here for Small Diameter Cable or call to ask us how we can meet your needs.
Our experience allows us to offer a wide variety of sheath materials; including molybdenum, tantalum, titanium, Inconel, Incolloy, Hastelloy™, Monel 400™, as well as other superalloys and custom materials. We can provide custom designs, and prototypes for almost any requirement.
MI Cable Processing Equipment: Do you need to straighten your MI Cable? We can solve that. Our rotary straightener (RS-500-4) can straighten cable from .059" up to .500" (12.7mm).
If you do not see what you need, or have questions, please contact us.
Phone: (208) 522-0055 or email: sales@idaholabs.com